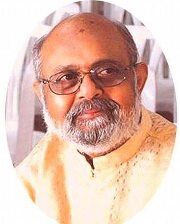 Gourang Kodical - A Percussionist Prodigy
[
]
By Nandakumar Hattiangadi in Chitrapur Saraswats: How many on FB let's see · Edit DocGourang Kodical -

Gourang Kodical - A Percussionist Prodigy
(A profile)

No music - be it Hindustsani or Karnataka Classical or Western Classical or Jazz or Modern Rock Metal - is complete without accompaniment on a 'Percussion' instrument . In our traditional HIndustani Classical Music, by and large, the performing artiste is accompanied on a 'Tabla' or a 'Pakhwaz' ( in the Karnataka Classical Music it is the 'Ghatam' ) and in the Western Style of Music it is invariably the 'Drums'. The rhythm or the tempo of the musician is invariably supported by these Percussionists. One can never imagine enjoying a musical extragavanza without proper accompaniments. Just as the 'Harmonium' has become an integral part of the artistes performing on the dais in any given musical performance, ' Tabla ' has also commanded an equal share in the process. Music without these accompaniments is bland.

Gourang was born on September 28, 1946 in Bombay. He is the youngest son of Shri.Ramanand Kodical and Seeta Kodical. Seeta Kodical was the daughter of Shri.Hattangadi Shankar Rau (the renowned HSR who dedicated his life in the service of our Math during the period of HH Shrimat Anandashram Swamiji).It is believed that Shri.H.Shankar Rau was being tipped for the post of the Governor of Reserve Bank of India, but gave up his official career to serve our Math, which was under tremedous fianancial strain. Gourang's maternal uncle, Shri.Gopal S Hattangadi was by no means an unknown figure in our community, having scripted many books during the period of HH Shrimat Anandashram Swamiji. Gourang had an elder sister, Sheetal Rao Mallapur, and an elder brother, Chaitanya Kodical. Gourang's interest in music increased with his participation in the bhajans - a regular feature taking place at his maternal grandfather's residence at Labranum Road in Gamdevi, Bombay.

He studied in a Gujarati medium school at Jamnagar till the 7th std, where his father was posted. Upon his father's transfer to Mysore, he studied upto the 10th std. However, he appeared for his SSLC examination at Bangalore. He graduated in 1967 from The Presidency College, Madras, in ARTS with Psychology and Philosophy as the main subjects and Statistics as the subsidiary,

Gourang had his initiation in Tabla at the age of 5 from his music-loving parents (Ramanand & Seeta Kodical). He went on to acquire his formal training from Pt. Shashi Bellare (nephew of the legendary Hattangadi Taranath Rao) at Bombay,and,then from Pandit Dattappa Garud of Bangalore.He spent most of his school years in Jamnagar (Gujarat). As an youngster he was fortunate to spend weeks together in the close presence of great stalwarts of yesteryears like Smt. Kesarbai Kerkar, Pandits Pannalal Ghosh and Nikhil Ghosh, Ustads Latafat Hussain and Abdul Haleem Jaffar Khan, who used to enjoy the hospitality of his parents whenever they were invited to perform for a music sabha in Jamnagar. Thus he was brought up in a very intense musical ambience. He rendered his maiden public performance in Tabla at the age of eight.

His advanced training in Tabla was during the years 1968 - 1972 under Tabla Nawaz Ustad Shaikh Dawood of Hyderabad, who was chiefly responsible for moulding him into the refined artiste that he is today. With the blessings of his Guru, Gourang has evolved a style of his own for accompanying Hindustani vocal music.He has passed the 'Madhyama' examination conducted by Akhila Bharatiya Gandarva Mahavidyalaya.

Although Gourang accompanies both vocalists and instrumentalists with equal ease, his forte is his unique style of accompanying vocalists. No matter what Gharana the vocalist belongs to, Gourang's sangat blends with the gayaki with perfection. His accompaniment is unobtrusive and yet lends excellent support to the musician, while merging with the music.

Some of the stalwarts Gourang Kodical has accompanied are: Mallikarjun Mansur, Basavaraj Rajaguru, Kumar Gandharva, Bhimsen Joshi, K G Ginde, Dinkar Kaikini, Yashwantbua Joshi, Rajan/Sajan Misra, Kishori Amonkar, Prabha Atre, Lalith J Rao, Parveen Sultana, Ram Narayan, Hariprasad and many others.

Musicians of the younger generation he has accompanied include: Prabhakar Karekar, Ajoy Chakrabarty, Ulhas Kashalkar, Rashid Khan, Malini Rajurkar, Veena Sahasrabuddhe, Padma Talwalkar, Arati Anklikar, Ashwini Deshpande etc.

He has gone on extensive concert tours of USA, UK, Canada, Europe, Singapore, Malaysia, Indonesia and Bangladesh with musicians like Pt. Dinkar Kaikini, Smt Lalith J Rao and Pt. Vinayak Torvi (Vocal), Pt. Devendra Murdeshwar (Bansuri), Sri N Rama Rao and Sri T Radhakrishna (Sitar).

Gourang has been invited to judge several state and national level music competitions and is on the panel of examiners for award of scholarships by the Centre for Cultural Resources and Training (CCRT), Delhi. He is also a member of the local audition board of All India Radio, Bangalore.

He is a founder member (and till recently, was the Hon. Secretary for twenty years), of a very active and thriving music sabha in Bangalore called 'Sursagar', which encourages established musicians and budding youngsters, besides conducting workshops by eminent musicians/scholars/musicologists for the benefit of students who are serious in learning music in Bangalore. Started in 1982, the sabha has presented over 300 Hindustani musicians from all over India and abroad to the discerning audiences of Bangalore. "Sursagar" completed its 30th Anniversary in November 2011 by organising a music festival on 13th Nov.2011 at the Chowdiah Memorial Auditorium in Bangalore in which Ustad Shahid Parvez performed on the Sitar and Shri Ulhas Kashalkar rendered a vocal recital. The tabla accompaniment to both these performances was rendered by Yogish Samsi, son-in-law of Gourang Kodical.

In recognition of his meritorious service in the field of Hindustani Music (Tabla), the Karnataka Sangeet Nritya Academy honoured Gourang with an award and the title,
'Karnataka Kalashree', for the year 2000-2001. He has also been conferred with the prestigious Karnataka State Rajyotsava Award with the title 'Karnataka Tilaka' for the year 2007, by the Govt.of Karnataka, in recognition of his services to Hindustani Music (Tabla), with a Gold Medal and a citation..

Gourang joined the State Bank of Hyderabad in May 1969 at Hyderabad. He sought a transfer to Bangalore at his request in 1972 due to personal reasons and had served the Bank in four of their local branches. He opted for Retirement in 2001 under the Voluntary Retirement Scheme introduced by the Bank to its employees. He did not opt for promotion in the Bank as it would have severely affected the pursuit of his musical ambitions, due to frequent transfers.

Gourang married Kusum Padukone, daughter of Padukone Shantaram Rao (nephew of Swami Ramdas, "Anandashram", at Ramnagar in Kanyangad) on 7th December 1970. The couple have two children - a daughter and a son. The daughter, Kavita, is married to Yogish Samsi (son of Pandit Dinkar Kaikini). The son, Jnanesh is happily married to Vennila Perumal. He specialised in Corporate Law and joined ICICI Bank in their legal dept in July 2000. In February 2002 he switched over to the Citibank and worked there till Dec.2009. In Jan.2010 he joined J.P.Morgan Chase Bank in their legal dept.

Besides devoting most of his time to music, Gourang, has the distinction of having served all the three Gurus of our Math - HH Swami Anandashram, HH Swami Parijnanashram and HH Shrimat Sadyojat Shankarashram Swamiji. He has been blessed by HH Swami Anandashram and HH Swami Parijnanashram during the course of the visits of our Gurus to his residence at Mysore on two occasions in the course of their stay for three days (once before Shishya Sweekar in 1958 and once afterwards).
As an active member of CYMA, Bangalore, Gourang organised a memorable 3 day Music festival in January 1977, for raising funds for the annual Rathotsava to be held in Shirali. The musical event had participation from India's noted musical greats - Pandit Jasraj, Pandit Dinkar Kaikini, Smt.Kishori Amonkar (Vocal), Pandit Shivakumar Sharma (Santoor) and Ustad Zakeer Hussain (Tabla - Solo).

Gourang took a keen interest in compiling and editing "Ananda" - a treatise released on the occasion of the birth centenary of HH Swami Anandashram as well as the Golden Jubilee celebrations of the Shri Chitrapur Math at Bangalore. Gourang has been closely associated in the audio recordings of HH Shrimat Sadyojat Shankarashram Swamiji from " Antarangini 1 " to the latest " Stotravali 3 ". He also actively participated in the 'Live' show - " Bhairav to Bhairavi " conceived, composed and conducted by Smt.Lalith J.Rao - a musical extravaganza organised for raising funds for the Chaturmas of Swamiji at Hubli.

Gourang has been compelled to give up playing Tabla while accompanying music artistes due to health reasons. He had to undergo several medical surgeries in the course of the past few years to maintain a semblance of reasonable health conditions. As a result of these physical hurdles, he is unable to sit for long hours playing on the Tabla during musical concerts. The physical handicap has certainly dampened his progress in the field of ' Percussion '. It would not be wrong to mention that our community seems to have lost the services of a "Percussionist Prodigy" in a manner of sorts and one may not be able to see the sight of Gourang Kodical sitting on the dais accompanying an artiste on the Tabla. It is truly sad but inevitably unavoidable.

Nandakumar Hattiangadi
Bangalore.