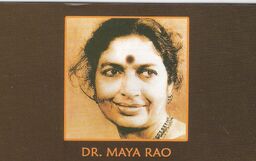 'Dr.Maya Rao (Hattangadi') – A Virtuoso in Kathak and Choreography
The name "Kathak" is derived from the Sanskrit word "katha"meaning story, and "katthaka"in Sanskrit means he who tells a story, or to do with stories. The name of the form is properly '''''कत्थक''''' "katthak", with the geminated dental to show a derived form, but this has since simplified to modern-day '''''कथक''''' "kathak". 'kathaa kahe so kathak'is a saying many teachers pass on to their pupils, which is generally translated, 's/he who tells a story, is a kathak', but which can also be translated, 'that which tells a story, that is 'Kathak. '''' '''Music to' Kathak' is normally provided by tabla and sarangi players. ===The story of Kathak begins in ancient times with the performances of professional story-tellers called kathakas who recited or sang stories from epics and mythology with some elements of dance. The traditions of the kathakas were hereditary, and dances passed from generation to generation. There are literary references from the third and fourth centuries BC which refer to these kathakas. Because of the linear nature of the passing of knowledge from guru ''to shishya, certain stylistic and technical features began to fossilise and became hallmarks of a particular school, guru or group of teachers. The different styles are known as "gharanas", ===
Today, Kathak has regained its popularity after the period of decline during the rule of the''''' British Empire '''''(where it was frowned upon by Victorian administrators), and it is now one of the eight officially sanctioned classical dance forms of India. Kathak's current form is a synthesis of all the input it has had in the past: court and romantic aspects sit comfortably side-by-side with the temple and mythological/religious.''''' Birju Maharaj '''''has introduced the relative innovation of multi-person choreographies in Kathak, which was traditionally a solo dance form.
The Lucknow Gharana of Kathak dance came into existence mainly in the court of Nawab Wajid Ali Shah the ruler of Awadh in the early 19th century. It was in this period that the Lucknow gharana of Kathak attained maturity and perfection. This was due to the pioneering efforts of Thakur Prasad Maharaj, the court dancer and guru of Nawab Wajid Ali Shah and subsequently by his illustrious nephews Bindadin Maharaj and Kalkadin Maharaj. Kalkadin Maharajji's sons Achchan Maharaj, Lachu Maharaj and Shambhu Maharaj also contributed to the further development of this gharana style. The Lucknow style or Kathak dance is characterized by graceful movements, elegance and natural poise with dance. Artistically designed dance compositions, emotive vocal compositions like thumri-s, dadra-s, hori-s along with abhinaya (expressional acting) and creative improvisions are the hallmarks of this style. Presently, Pandit Briju Maharaj (son of Achchan Maharajji) is considered the chief representative of this gharana.
The''''' '''''Jaipur Gharana''''' '''''developed in the courts of the Kachchwaha kings of''''' '''''Jaipur''''' '''''in''''' Rajasthan. Importance is placed on the more technical aspects of dance, such as complex and powerful footwork, multiple spins, and complicated compositions in different''''' '''''talas. There is also a greater incorporation of compositions from the''''' '''''pakhawaj, such as parans.
Traditional (and perhaps more specifically Hindu) costume sometimes consists of a sari, whether worn in an everyday style, or tied up to allow greater freedom of movement during dance. However, more commonly, the costume is a

'

lehenga

'

-

choli

combination, with an optional odhni or veil. The

lehenga

is a loose ankle-length skirt, and the

choli

is a tight fitting blouse, usually short-sleeved. Both can be highly ornate.

[

]
In the annals of Indian dance, there are very few artistes who have distinguished themselves as dancers, choreographers and gurus, all at the same time. Either gurus are not dancers or choreographers are not gurus. Maya Rao (Hattangadi) is an exception, because she is all three rolled in one and more.
Maya Rao was born on May 2, 1928 in Bangalore to Hattangadi Sanjeev Rao (1892-1946) and Subhadra Bai (1900-1959) in a family consisting of 3 sons and 3 daughters. Manohar (1919-1984) and Ramesh (1922-1993) were elder to Maya. After Maya, Shivaram (1932) and sisters Uma (1934) and Chitra(1936) were born in the family. Sanjeev Rao joined Peter Hayes & Co., a British concern, as an Engineer. When the owners left the country, the company was handed over to him, who re-named it 'Sanjeev Rao & Co.' In due course of time the firm was changed to 'Mysore Homes' as it was engaged in construction activity. The Palace gate in Mysore was built by him. In 1945 Maya Rao finished schooling and joined Maharani's College and chose History, Economics and Logic as her subjects of study. Although she had a flair for dancing, Maya Rao was born and brought up in an orthodox middle class family, where elders did not permit their daughters to learn the art of dancing, simply because it was considered to be restricted to and performed only by devadasis or naachwalis and condemned as a cultural stigma in the society, consequently relegating the popularity of the art of dancing to its natural conclusion. Her dream to learn dancing and become a star was born after watching Uday Shankar perform at the BRV theatre in Bangalore, with his large ballet troupe of musicians and dancers. This performance left an indelible impression in the young mind of Maya Rao who was barely 12 years of age. The desire to learn dancing and perform it in front of audiences became a goal for her. Fortunately, her father was also thoroughly impressed with Uday Shankar's performance, which turned out to be a blessing in disguise for her. After much pleading and imploring with her father, Maya Rao was permitted to take up dancing. Initially, she was taught Hindustani Classical music – vocal and instrumental (dilruba) – from Rama Rao. She was introduced to Sohanlal, a Kathak exponent from Jaipur, and who had settled down in Bangalore with Ram Gopal, a celebrity in his own rights and having a studio in Benson Town where he invited many dancers and gurus to teach. Sohanlal was her first Guru who taught her the art of Kathak from 1942, which lasted for two years. He was a seasoned instructor and an excellent dancer. However, the attraction to direct dances in films lured him to Bombay soon thereafter and he left Bangalore. In 1944 Sohanlal choreographed a shadow dance called "The Birth of Music" at the Town Hall for the function of Saraswath Samaj. The year 1947 became a landmark year in her life in more than one way. Destiny brought her art in dancing and an acclaimed composer of music closer in life. Maya Rao met M.S.Natarajan, an established and a renowned musician and composer, who managed a troupe named "Saraswathi Orchestra" and was touring all over the country. This heavenly-ordained meeting later led her to tie the nuptial bond with him in December 1964. The second event was setting up a center to teach dance and music (a co-ordinated effort of Maya and Nataraj) aptly named 'Natya Saraswathi Dance and Music Center' which was later shortened to "Natya Saraswathi". Maya's first stint in choreography was in 1947 when she had composed a piece from the Ramayana titled "Sita Haran" which was to be staged at the Town Hall and was organized by Maharani's College. On the day when the play was to be performed, the regular musician failed to turn up leading to disappointment for all the artistes. As fate would have it, Nataraj turned up at the venue with his orchestra to play for one of her friends who was to sing some film tunes. At the request of the Principal, Nataraj magnanimously agreed to help Maya with the musical score. The programme was presented with half an hour's rehearsal with Nataraj and his orchestra and was a great success. The providential meeting of Maya and Nataraj seemed to have been choreographed and orchestrated by a Divine Hand. In 1949 Maya Rao staged a programme on an initiative from the International Labour Organisation (ILO) in Mysore at the behest of the Rural Development Department of the Government of Mysore. The theme selected was 'Grow More Food' and the noted writer, T.R,Subbarao (popularly known as 'Tarasu') assisted Maya in selecting a piece from an Upanishad - 'Annam Bahu Kurvita' – meaning that if the farmers do not grow rice (food) and neglect performing their duties, disaster would strike. The music for the first song – ' Kariyuthale Neleda Thayi ' - was composed by Kalinga Rao and the rest of the music was scored by M.P.Ramu. This ballet was a resounding success which encouraged Maya to come with her next ballet titled 'Art and Life' based on the story of the Greek sculptor, Pygmalion (the original Greek version was chosen ahead of the one written by George Bernard Shaw). Since programmes from outside were not coming to Bangalore, Maya decided to leave Bangalore in 1951 and go to Jaipur to continue with her Kathak dance. As she was equipped with an Honours Degree in English, she could get a job at the Maharani Gayatri Devi's school as an English teacher. Her stay in Jaipur lasting for 2 years, did not measure up to her expectations in terms of progress in the art of Kathak dance. Most of the Gurus had left Jaipur to seek better opportunities in Bombay or Delhi. Maya's elder brother, Manohar Rao, was based in Ceylon, as he had his own business there. He knew Chitrasena , a highly reputed Kandyan dancer, very well and encouraged her to come to Ceylon where she could learn Kandyan dance under Chitrasena's tutelage. Thus, in 1953 she decided to leave for Colombo as suggested by her brother. During her stay in Ceylon, she did not do much choreography but concentrated on learning the Kandyan dance. The dance studio was located in Colombo but her Guru used to take her regularly to Kandy to study the variety of rituals and dances being performed there. In October 1954, just as she was preparing for her debut performance of Kandyan dance, Maya Rao received information that she was required by the Govt. of India to attend an interview in Lucknow for the dance scholarship which she had applied before leaving Jaipur. She just had three days time to appear for the interview and she decided to take a flight to Lucknow from Colombo and reached the venue just in time.
A Decade of Transformation ( 1950-1960 )
The venue of her interview was Marris College of Music (now known as Bhatkhande University) where she met Mohanrao Kalyanpurkar, famous guru and an exponent of Kathak, and, the famous violinist V.G.Jog. With their moral support and encouragement she gained confidence to face the interview the next day. Since she was short of practice of Kathak dance for over two years, having spent her time in learning Kandyan dance, a tabla player and a sarangi player were arranged by Mohanrao. The interview was conducted by Nirmala Joshi (Secretary of Sangeet Natak Akademi) and Mohanrao Kalyanpurkar. The credentials presented by Maya Rao impressed Nirmala Joshi very much and was selected to receive the scholarship to study Kathak at the Bharatiya Kala Kendra in Delhi under Shambhu Maharaj. Maya Rao reached Delhi on January 3, 1955 and reported at the Kendra. However, Shambhu Maharaj arrived in Delhi only on January 14, following a lot of persuasion to leave Lucknow and take up the assignment in Delhi. Observing the hunger and the determination of Maya Rao to learn Kathak style of Lucknow gharana, Shambhu Maharaj was convinced and accepted her as his student. Nirmala Joshi was India's first Cultural Bureaucrat, being very dynamic. She had organized the first ever Dance Seminar and also headed the first National Akademi set up for Dance, Music and Drama – the Sangeet Natak Akademi. To assist her at the Akademi, she chose two Officers – Govind Vidyarthi (father of well-known actor Ashish Vidyarthi) and N.C.Jain. She started this institution called Bharatiya Kala Kendra along with Sumitra Charatram (who hailed from the illustrious family of Delhi Cloth Mills and the Shri Ram group). Post Independence, many artistes, musicians and dancers who were patrnonised by the Maharajas and other Royalty families had lost their jobs and were struggling to make a living on a paltry sum doled out to them as pension. Nirmala Joshi hatched upon the idea of inviting such gurus to the Bharatiya Kala Kendra in Delhi to teach their respective art forms to enthusiastic learners. In due course of time, Dagar Brothers also joined as staff members. Learning Kathak under Shambhu Maharaj was a life-time experience for Maya Rao, as apart from learning the nuances of Lucknow style of Kathak dancing from her Guru, she also learnt good Hindustani. Fortunately, she was the lone student in the first batch of students under the Govt.of India's scholarship, to learn under her guru, as the other selected candidate, Anuradha Guha from Calcutta, did not join the Kendra.(In the second batch, Bela Arnab from Calcutta and Keshav Kothari from Rajasthan joined the Akademi. In the third batch, Maya's sister Chitra Rao, Kumudhini Lakhia and Rina Singh too joined. When the Kendra shifted to a spacious location on Pusa Road, stalwarts from the world of music and dance such as Ustad Hafiz Ali Khan from Gwalior for Sarod, Naina Devi (well known Thumri exponent) as Artistic Director, Ustad Mushtaq Hussain saab from Rampur gharana, Ustad Vilayat Hussain Khan saab from Agra and Wahid Ali Khan too joined. Amjad Ali was a young boy at that time and was often asked to play tabla at the instance of her guru, when she was practicing Kathak. In due course, Pandit Sundar Prasad and Pandit Birju Maharaj also joined the faculty to assume charge of the Jaipur style of Kathak and the ballet unit respectively.
Maya Rao recalls her first meeting with her guru, Shambhu Maharaj at the Sangeet Natak Akademi office very vividly. He was enquiring with the staff as to 'who is this girl for whom I have had to leave Lucknow and come to this refugee city to teach?' On seeing him, Maya Rao touched his feet in obeisance saying "Guruji, I have left my home and come from thousands of miles to learn from you". Shambhu Maharaj was very much impressed with her attitude and blessed her saying "Your bowing down is not to me but to my forefathers and gurus whose knowledge I am going to pass on to you". Indeed, true humility and serene magnanimity in the "Guru-Shishya" parampara. These potent words coming from her guru at the very beginning of her career in studying Kathak under his tutelage were synonymous to rain drops falling on parched earth. Maya Rao feels extremely privileged and fortunate to have been trained under a Guru like Shambhu Maharaj. He was born in the year 1912 in Lucknow, in the illustrious family of legendary Kalka Prasad. He was the nephew of Maharaj Bindadin . His elder brother was Achchan Maharaj (Birju Maharaj's father) and Lachchu Maharaj his younger sibling. He acquired the family art of Kathak from his elder brother Achchan Maharaj, who went to Delhi prior to Indian Independence and taught dancing at the Sangeet Bharati. Lachchu Maharaj went to Bombay to teach film stars the art of Kathak dance – leading film actresses like Meena Kumari and Sitara Devi learnt the art from him. Since Shambhu Maharaj was not inclined towards filmdom, he stayed back in Lucknow to train every Kathak aspirant of that period in the Lucknow gharana. Being a genius in his own right, Shambu Maharaj was persuaded by Nirmala Joshi to join the Bharatiya Kala Kendra in Delhi. Eventually Maharaj decided to move over to Delhi and joined the Kendra as the first Guru in 1955. Thus, Maya Rao was destined to be his first student in Delhi in learning and mastering the "Khandani" dance culture of Lucknow, in which dancing was a way of life.
Shambhu Maharaj was a "thinking Guru" always devoting his time and energy towards conceptualizing creative dancing. He was honoured with the Sangeet Natak Akademi Award in 1955 and was made a Fellow of the Akademi in 1967.His fame as a performer, composer and creator, recipient of several awards, titles and honours did not affect his individuality and personality. Maya Rao spent four memorable years under his guidance, which enabled her to reach greater heights in the art of Kathak dance and choreography. His teaching methods were unique in style, being the Master of Kathak that he was, had left a deep imprint in the minds and psyche of his pupils. During the greater part of study, there was no tabla or harmonium or sarangi to accompany the learner. Guruji used to beat his thighs to keep the rhythm, lent his voice to sing to compensate for the lack of a sarangi. Thus, he exerted all his inner reserves to teach his ardent pupil with the same zeal and enthusiasm as his student would possess to learn the art of Kathak dance. Shambhu Maharaj was a down-to-earth human being, kind hearted and pro-active towards his 'shishyas' besides being a perfect gentleman. He disliked calling his students to his home to learn the art and never held any dance classes at his residence. However, he always invited them for meals on special festival occasions. Being a good cook, he himself used to prepare the meals and feed them generously. He never misbehaved with any of his pupils and never drank liquor in their presence. Whenever he had an urge to drink, he would request all his students present in his house to leave so that he could enjoy the drink in solitude or in company of his select friends. He would go out of the way to teach any student who was sincere and earnest to learn dancing. He had a penchant for Thumris having studied under Ustad Mouzuddin Khan and was held in high esteem by other Thumri exponents like Begum Akhtar, Siddeshwari Devi and Naina Devi, as they regarded and respected Maharaj as their contemporaries. During his fairly long stay in Calcutta he made many friends like K.L.Saigal, Kanan Bala and several others who learnt from him. Shambhu Maharaj gave a new dimension to the "Guru-Shishya" parampara, turning his back to the inhuman 'clothes-washing' and 'leg shampooing/pressing' culture prevalent, thereby raising the bar for this sacred bond. Being a very simple and a great human being, he understood the aspirations, sincerity and the zeal of his shishyas perfectly. He was lost in his art, cared nothing for the politics of art (internal fights between Lucknow and Jaipur gharanas). He never taught items or compositions but built strong edifices of confidence and pillars of mental fortitude in the art of Kathak dancing. Most importantly, he gave good values, attitude, grace and poise to his shishyas. Last, but not the least, he blessed each one of his shishyas, which turned out to be their forte in their career. Maya Rao's terms of scholarship and training period under her Guru Shambhu Maharaj came to an end in 1958.
Years in Russia – 1960-1970.
The intention of the Govt.of India to have and build cultural ties with the Soviet Union (USSR) in 1960, created an opportunity for Maya Rao to take a giant's leap in her dancing career to learn choreography from the masters who created it. Shri.K.P.S.Menon, who was the country's Ambassador to the Soviet Union, was quite elated with the news that the Government had finally approved a Scholarship in the dance category which was initiated by him. It was at the insistence of Keshav Kothari (Nirmala Joshi's Secretary) who saw the advertisement in the newspapers which inspired Maya Rao to apply for the scholarship. She was the First Indian Lady to be selected, (N.K.Sivashankaran was the other successful candidate chosen) from among several aspirants, to be nominated by the Govt.of India for the USSR Cultural Scholarship in Choreography and Stagecraft respectively, by the Selection Board comprising Narayana Menon, Kapila Vatsyayan and Singhajit Singh (a very young Manipuri dancer) for the sojourn to Moscow. In those days Moscow was the Cultural capital of Eastern Europe and was reputed to be the most sought after place for Ballet, since the dancers from Russia were rated as the best in the art. Maya Rao and Sivashankaran landed in Russia under severe and extreme cold winter conditions with the temperature reading minus 29*C and joined the Lunacharsky State Institute for Theatre Arts (GITIS). The Courses included training in Choreography, Theatre Criticism, State Designing, Opera and Ballet. Since the training was not conducted in English but in the local Russian language, Maya Rao had to devote about 6 months of the training period in learning their dialect. Everyday two hours were allotted for Russian language class and two hours for Ballet dance training. Subsequent to clearing the confusion created by the interpreter about the nature of training she was to undergo, Maya Rao was made to learn the basics of ballet first, followed by choreography. In Russia, ballet technique is synonymous with the classical dance form. Whereas in India, a classical dance refers to the style of dance with classical technique, and, a ballet refers to a story narrated in dance. A special feature of Russian training in choreography is to make you discover your potentials of creative talent and expose it through dance,whereas in the American or British system of training, the trainees are made to learn what they know, i.e. study their method of choreography. During the training period in Russia the theatre of Riga (a Lativian Republic) invited Maya Rao as a Consultant Choreographer, at the behest of Sergei Balasanyan, a Soviet composer. She was there for six months, choreographing and assisting them. Maya Rao had an educative experience with the summer festival arranged by Theatres and Institutes in Moscow, which was called the 'Summer Dance Festival'. She travelled from Moscow to Leningrad (now called St.Petersburg) for almost a month. During the summer vacation, Maya Rao visited London and Paris. In London she had an opportunity to go to the Royal Ballet to see Margot Fonteyn and Nureyev performing together in the British version of 'Swan Lake'. Maya Rao also toured East Germany at the invitation of that country to observe their dance and theatre, as well as to deliver talks on Indian Dance and Performing Arts. This opportunity gave her a reason to tour all of East Berlin. During her stay in Moscow, she attended the 'Festival of Art' in Helsinki which was graced by some of the dignitaries in the Indian Delegation – Guru Gopinath, S.D.Burman, Salil Chaudhury and Sachin Shankar (who had come with his troupe of dancers) – to name a few. Maya Rao won a Gold Medal in the competition for Solo Dancers when she performed a Tarana in Raag Darbari. Having stayed in Moscow for three years, Maya Rao developed close relationships and friendships with several individuals leading to emotional bonds. In 1969 she went to Moscow as an honoured Guest for their International Ballet competition, which was also attended by Rukmini Devi Arundale.
Maya Rao returned to India in January 1964 and remained in Delhi without any regular assignment for nearly 3 months (either at the Sangeet Natak Akademi or at the Shriram Bharatiya Kala Kendra). The assurances given by Shriram Bharatiya Kala Kendra prior to leaving for Moscow, for creation of a Department of Choreography or a job as Dance Officer did not materialize for various reasons. Under these circumstances, Kamaladevi Chattophadhyay, Vice Chairperson of Sangeet Natak Akademi, assured Maya Rao to start an Institution for Choreography in Delhi. In the course of the deliberations of a meeting convened by her and attended by Anil Biswas, Inder Razdan and Kamla Lal, an unanimous decision emerged, paving the way for establishing an Institute for Dance. On August 17, 1964 the Natya Institute of Choreography was launched in Delhi amidst a lot of fanfare, with Maya Rao at its helm. She decided to form a Panel of Advisors for the institute. Pandit Ravi Shankar agreed to be on the Panel when a request was made to him by Maya Rao. Since then Pandit Ravi Shankar has been heading the Panel for nearly half a century. He had never been approached by the Institute to perform or compose music for it, but a lot of his music was used for their work. The Natya Institute received national recognition when the State Academies began deputing their artistes to the Institute. During 1965 and 1966, the Institute produced the famous Sanskrit play "Uru Bhangam" by the students as part of the syllabus (Sanskrit Theatre had to be studied by the students in their 2nd year as part of the training course of the Institute).The theme of the play relates to the fight between the Pandavas and the Kauravas (Bhima and Duryodhana) in which Bhima is asked by Lord Krishna to strike the thighs of Duryodhana to win the fight. (This play is very popular with the Yakshagana style of dance – an art extremely popular in the Coastal areas of Karnataka) Music was composed by Anil Biswas. The Yakshagana form was used for Kauravas (role of Duryodhana was played by Shambu Hegde s/o Shivaram Hegde) and the Kathakali style for Pandavas (role of Bhima was donned by Kalamandalam Padmanabhan Nair). Anil Biswas had chosen Raag Todi and Raag Bhopali for some poignant scenes. The play was an outstanding success, albeit being the first presentation of the Natya Institute. Several other plays were taken up by the Institute such as "Bhagavadajjukyam" in Kuchipudi, "Madhyam Vyayoga" in Yakshagana style, "Sugandhika Haranam", "Shringara Narada", "Matta Vilas", "Basaveshwara", "Ramayan Darshan" and "Hoysala Vaibhav", to name a few productions. Later the Institute was invited to present "Madhyama Vyayoga" at Haridwar on the occasion of the Kumbh Mela for the inaugural session. In February 1968, the Institute produced and presented "Basaveshwara" to commemorate the Eighth Centenary of the Poet-Philosopher – Saint Basaveshwara, at the request of the convenors of the Basaveshwara Committee comprising of Shri.B.D.Jatti (former Chief Minister of Karnataka and later Vice President of India) and Sarojini Mahishi. The Vachanas of Basava were composed and sung by Anil Biswas. The play was very much appreciated by B.D.Jatti and the Institute was requested to tour all over Karnataka with the play. All the performances were very much appreciated by the audiences, particularly the Lingayats.
At the instance of the Govt.of Karnataka a ballet titled "Hoysala Vaibhav" portraying the glory of the Hoysalas was presented at the Sapru House in Delhi, around the time of Karnataka Rajyotsava (1st Nov) for which Anil Biswas directed the musical score, Inder Razdan designed the costumes and Habib Tanveer and Monica Tanveer were in charge of stage lighting and design. The play was an outstanding success. In 1967, the Jnanpeeth Award was conferred upon the renowned Kannada poet, K.V.Puttappa (popularly known as 'Kuvempu'). The Jnanpeeth Awards Committee approached Maya Rao to make a production from the excerpts of his book "Sri Ramayan Darshanam". Four scenes from his book were selected by Kuvempu himself for adaptation in the presentation. The show was presented at Vigyan Bhavan in Delhi. Anil Biswas did the musical score for the play. The performance was well appreciated by the audience. From 1967 the Institute commenced presenting "Dances of India" for the Indian Council for Cultural Relations (ICCR) – a One hour programme representing dances of different regions in India. The ICCR deputed the participants in the plays on Cultural Delegations to many countries abroad to perform "Dances of India". These performances were very much lauded and appreciated by the large audiences abroad. In the years 1955 to 1956, the Sangeet Natak Akademi was asked by Pandit Jawaharlal Nehru to review the traditional Ram Lila being performed for 9 days at the Ram Lila grounds at Delhi and to revive it to as a good dance drama for three hours duration. The Bharatiya Kala Kendra took up the production of Ram Lila in which Maya Rao had played some leading roles. Her sister, Chitra Rao (also a Kathak exponent) performed the roles of Kaikeyi and other characters. Additionally Maya Rao choreographed "Tulsi Ke Ram" an abridged version of Ram Lila based on the Ramcharit Manas written by Tulsidas. The duration of the dance-drama was for 2 ½ hours. On an invitation from the Tirumala Tirupathi Devasthanam, Natya Ballet Centre, Delhi, run by Kamaladevi Chattopadhyay, Maya Rao was requested to present a dance-drama on Lord Venkateshwara in Hyderabad ,Tirupathi and other places in Andhra Pradesh. Maya Rao was choreographing and directing dance-dramas for the Natya Ballet Center. As such she was involved in the production titled "Venkateswara Vilasam" which had the support of the Chief Minister of Andhra Pradesh, Channa Reddy and sponsored by the State's Department of Social Welfare for Women and Children, with financial grant being given by TTD. Over 100 shows of 'Venkateswara Vilasam' were presented throughout Andhra Pradesh. The Chief Minister procured N.T.Rama Rao's movie "Srinivasa Kalyanam" to enable Maya Rao to collect material on the topic. The dance drama was choreographed in Kuchipudi style, since the subject matter related to the Andhra Pradesh State. This ballet was also presented in Delhi in 1987 in the august presence of the President of India, Shri.R.Venkataraman, as part of the 25th Anniversary celebrations of the Natya Ballet Centre. Maya Rao was invited by the then Chief Minister, Shri Ramakrishna Hegde, to shift the Natya Institute from Delhi to Bangalore and run it with the help of the Government of Karnataka. Accordingly, the Institute established in 1987 in Bangalore has been running with support from the Department of Directorate of Kannada and Culture, Government of Karnataka
Maya Rao was honoured with the Mysore State Sangeet Nritya Academy Award from the Government of Karnataka in 1968.
                                                                                                                          

(To be continued )



Nandakumar Hattiangadi,
Bangalore.
(E mail – nandakumar.hattiangadi@gmail.com )
(Inputs sourced from the Archives of Natya Institute of Kathak and Choreography, Bangalore and Wikimedia.org)