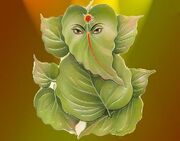 Sri Ganeshaya Namaha
Thanks to suggestions from dedicated members of the Chitrapur Saraswats: How many on FB let's see Facebook group, this Amchipedia was set up in August 2011.
Since Ganesh Chaturthi was just a few days away, the consensus was there was no better day for the Wiki's Sri Ganesh than this auspicious day.
So here we are starting off with this inaugural page dedicated to the God of all beginnings. Ganapati is the original creative force, the destroyer of all obstacles, the harbinger of all things beautiful.
He is the fount of all creativity. No wonder He is the only deity in any religion that can be represented in limitless ways, fashioned out of any material – there are infinite ways of depicting Ganapati. He is Amitaguna Sampanna, limitless, bountiful. He is our Aradhya Daivat.
Sant Jnaneshwar's description of Om, the Aadibija, the original cause, is infact a depiction of Ganapati in typographical form. Visualise it as you read: Akaara CharaNa Yugula Ukaara Udara VishaaL/ Makaara Mahamandala Mastakaakaare/ He Tinhi EkavaTale Tetha Shabda Brahma Prakatale/ Te Meeya Sri Gurukripa Namile Aadibija.
That is the kind of creativity He inspires. Small wonder, then, that in our own times, one of the most powerful creative tools that we all use today is named after His trusty vehicle, the mouse.
May Lord Ganapati bless us all and guide our minds toward making this collaborative project a worthwhile one for all of us and future generations.
Let us pray together that we all be guided by good sense and that all our creative actions prove beneficial for one and all.
Aum Sahanaavavatu Sahanobhunaktu Sahaviryam Karvavahai Tejasvanaavadhitamastu Maavidvishaavahai. Aum Shantih Shantih Shantih.
Dev Nadkarni
September 1, 2011, Ganesh Chaturthi
PS: We must express our thanks to Ashwin Baindur for taking it upon himself to build the barebones of this Wiki and writing details guidelines about how to populated it with data. Over the coming weeks we'll put together a plan to do this systematically. Meanwhile explore the wiki and add to it, please do.